LP392 We Can Do It (c) US Wartime Poster Rosie the Riveter 1943/ Leeds Postcards 1985
Women's place in the workforce in the USA was radically changed during the Second World War (1939-1945). Propaganda, like 'Rosie the Riveter' were used to recruit women to fill war-time defence jobs which suffered from the 'man' power shortage caused by the war. Black women, along with older and married women found exciting new opportunities open to them for the first time.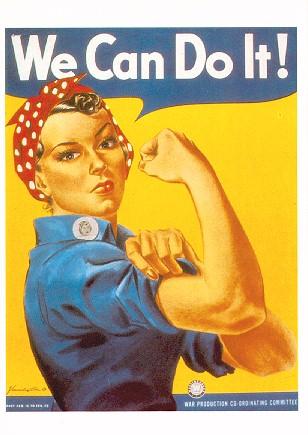 The number of women in heavy manufacturing increased by 460%! Overnight women were trained to be shipbuilders, welders, riveters and machine workers. When the war came to an end, new propaganda was produced, which encouraged women to leave the workforce so the returning soldiers could resume their old jobs. Although 80% of the women wanted to keep their skilled jobs they were laid off in great numbers and many of the 'Rosies' who stayed in the workforce were forced to return to their traditional unskilled positions.